Referring to Agency, surely the two words creativity and innovation are always pioneering words in the industry. Therefore, agency people are always looking for new things and interesting technologies to appear in their sparkling proposals. So, what technologies are currently the most popular and sought-after by Agency people?
1. Real-time Database Application
The first breakthrough technology must be mentioned – Real time Database. It is a system that collects data at a time, then the information is analyzed quickly enough to produce the immediate results required by the business. The use of this format brings many benefits to companies such as helping them to promptly capture constantly changing data and thereby bring effects that are compatible with the data immediately.
For example, a brand wanted to spread the message "Take care of the elderly", a campaign was proposed with the idea of ​​the agency and the process of technology implementation by gumi described as follows: Before the At the intersection, the brand will place a large screen with the image of an old man with a sad face. When many people look at the screen and smile, the old woman's face will become more and more cheerful, rosy and healthy.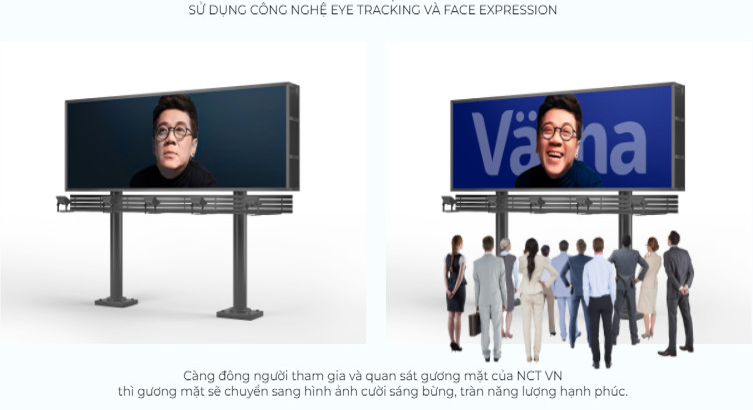 This is a campaign to help raise awareness and encourage people to care and talk to older people.
2. Interact with people through facial recognition system
When it comes to the development of technology, it is impossible not to mention artificial intelligence (AI) and facial recognition systems. This technology has been applied in almost every field in general and advertising in particular. Thanks to the ability to recognize facial expressions or demographics, businesses can easily create interactive billboards with customers, thereby making them feel more interested and impressed about the brand. .
gumi has developed a demo product for this technology called CommuSign. When someone appears in front of the screen, the consultant will appear. If you are female, the male consultant will appear and vice versa. This is a product created to help collect sunscreen usage habits of different age groups in Japan.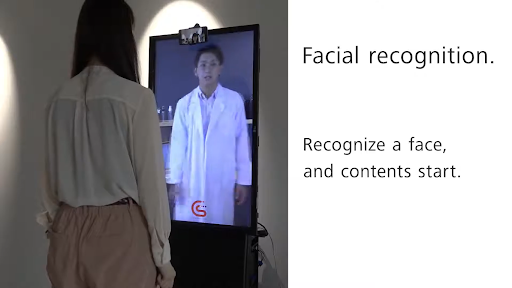 3. Creating experiences with AR/VR
OOH campaigns are often aimed at expanding brand awareness, but this form cannot measure its effectiveness. Thanks to the tremendous development of technology, businesses can now integrate virtual or augmented reality (AR/VR) technology into billboards. From there, brands can take advantage of the full potential of outdoor advertising and easily gauge metrics.
A really meaningful campaign is carried out by the National Honor Society called "Virtual Blood Donation" to encourage people to donate blood to help patients in need. Specifically, the company used an AR application to connect to the image of a patient and an empty blood bag on a billboard. Passersby can directly donate blood with their iPhone, through each blood donation, the image of the blood bag will gradually fill up and the patient's situation will improve gradually.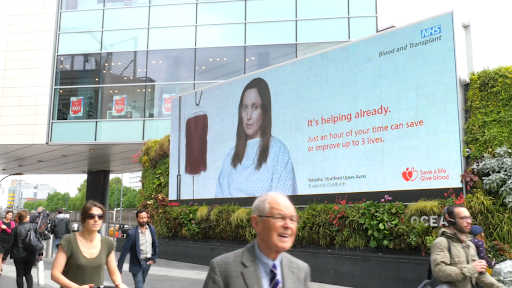 The "Virtual Blood Donation" campaign applies virtual reality technology of the National Health Service Organization
4. AR Map application
AR Map is a technology combined with maps to bring a realistic experience in real space to users. Players can use AR Map to get an overview of store vouchers along the way. In addition, through AR Map, players can easily search for store locations quickly.
AR Map technology helps guide the way and display store vouchers.
Conclusion:
The development of technology has opened up many potential opportunities for the advertising industry. Realizing the benefits that technology brings such as facial recognition systems or real-time data, brands have gradually focused and applied to advertising content to help customer approaches become more effective. Be more creative and unique.
gumi Solutions is a company specializing in consulting and developing innovative technology solutions to address the needs of customers with the goal of co-branding to bring the most enjoyable experiences to the end customers. If your business wants to learn and discuss more about other technology ideas, do not hesitate to contact gumi!
Contact Info :
gumi Group Co., JSC
Website: https://gumisolutions.com/tu-van-giai-phap-cong-nguyen/
Fanpage: https://www.facebook.com/gumisolutions
Email: contact@gumiviet.com
Hotline: 028 3930 2407 – 091 416 3232
Address: 290/26 Nam Ky Khoi Nghia, Vo Thi Sau Ward, District 3, City. Ho Chi Minh